Why does your webshop need a payment gateway? What providers are out there? How do you integrate a payment gateway? What do you need for becoming a Barion merchant? Our miniseries has reached its final article, so now it's time to assemble the definitive guide to becoming a Barion merchant, which answers the above questions – and a handful more as well.
What is a payment gateway? ⛩️
A payment gateway is the crucial link between your webshop and your customers while processing any payment. It securely validates your customers' payment details (more on this later) and allows you to get paid the amount displayed on your website.
With plenty of "invisible" steps in the process of accepting payments, a payment gateway serves as the link between your business and your customers.
Why need a payment gateway at all? 🤷
There are several reasons why webshop owners need to integrate a payment gateway to start accepting payments. If you picture online payments as physical ones, you'll quickly see the problem. When you are physically there in a shop to authorize any payment, you sheer presence does the trick, and there's no need for additional authorization. The same cannot be said about online payments, though.
When your customer checks out on your webshop, there's no telling that, just by entering any credit card data, that person is actually authorized to initiate the transaction. Payment gateways are also gatekeepers of your customers' payment data. They serve as a middleman, but they also add a security net for every payment. In short, you need a payment gateway because of the following reasons:
Authorizes payments. Your webshop by its own is not allowed to authorize any kind of payment made by credit or debit cards or any other payment methods like bank transfers or digital wallets (Apple Pay, Google Pay, Barion Wallet) transactions.
Keeps things secure. In an age when online transactions are getting increasingly exposed to fraudulent activities, webshop owners need to think about payment safety as well. The easiest way is to integrate gateways that take care of monitoring fraudulent behavior and if needed, block transactions.
Provides a smooth experience. Payment gateways generally make the otherwise complex process of online payments quick and easy. They take little effort to integrate and come with additional benefits like analytics tools, several payment options, and more.
Barion Smart Gateway as your payment gateway ✨
With several gateway providers out there, Barion Smart Gateway offers a payment gateway that's unique in its own right. Merchant fees (this is what you pay per transaction) start from 1.5% and can be as little as 0.5%. Integrating Barion Smart Gateway is a smooth process as well. If you're using a popular e-commerce platform like Shopify or WooCommerce, you can simply use a pre-made plugin for that – or if you're thinking about a custom integration, your developer will love it to bits.
Barion Smart Gateway is known for its low-effort integration: even if you go with the custom option, you can set everything up and hit the ground running in mere days.
As of today, Smart Gateway supports offsite gateway integration: this means that your customers will be directed to a secure page for entering payment data, and then redirected to your webshop once the payment goes through.
Hit the ground running by opening your Barion Wallet 👛
To have a functioning Barion Smart Gateway integration, you'll need to open a shop in your Barion Wallet, and tick a number of prerequisites before getting it approved. These might feel like a hassle, but if you run a business that checks all the boxes by default, meeting Barion's requirements won't be that laborious. Here are a few highlighted items:
Make sure you open a Business account.:This will let you open one or more shops and start accepting payments. Personal accounts do not come with these functions usually.
Currency: You need to select one currency (EUR, USD, HUF, or CZK) for your Barion Wallet. Once you register, you can add additional currencies as well.
Shop category: Certain categories don't make the cut at Barion (adult content, gambling, crypto etc.), while others require an extra round of authorization. If you sell alcoholic beverages, dietary supplements, drugs, or prescription medicine, be prepared to present any authorization document you have.
Expected income and average cart size: Providing these figures will determine which category you fall into according to our Merchant Risk Control Policy. This will affect how we verify you and your business once submitting your registration form, and will also influence your
Percentage of non-EU cards: This is an often overlooked bit of your shop registration form. Knowing this figure will help us determine your merchant fee – basically, the higher the percentage, the higher the fee as well.
Consent management: Since European regulations demand every Europe-based business to have consent management information, it's highly likely that you already have this in place, but double-check just to be sure.
Special activities: If you sell alcoholic beverages, dietary supplements, drugs, or prescription medicine, be prepared to present any authorization document you have. For the full list, please refer to this article.
Terms & Conditions: Be sure to include a line in your General Terms and Conditions about your business accepting Barion as a payment provider.
Consent management: Since European regulations demand every Europe-based business to have consent management information, it's highly likely that you already have this in place but double-check just to be sure.
Barion Pixel: We take payment fraud very seriously, and that's why we make the implementation Barion Pixel mandatory for every shop owner.
These points do not include the entire checklist, so be sure you meet every requirement before ticking all the boxes. If everything is set, there's only one more thing to do: verification.
Open a shop 🛒
Now that you have your Barion Wallet, it's time to create your first shop. Apart from the self-explanatory fields, there are a few things you should pay extra attention to:
Give accurate information. For fields like expected income, average basket value, or percentage of non-EU cards, it's wise to give a realistic figure as it influences your merchant fee. Our price calculator comes in handy for getting a ballpark on how your business' key figures affect your merchant fee.
Complete the To-do list. You'll need to complete a few extra steps to be able to check these boxes. Be sure to only check them if you're actually done with them as these are mandatory items.
Save as a draft. You don't need to provide every little detail at once. If you need some time for things like placing the Barion logo on your website, just save your shop form as a draft and go back to editing whenever ready.
About your Barion Pixel integration👾
Barion Pixel comes with a few extra perks that help your webshop grow. You can go with Base Barion Pixel or Full Barion Pixel along with your Barion Smart Gateway integration – here are the key differences:
Base Barion Pixel
Implementing this code snippet gets you fraud detection for your webshop. Your customers can shop and check out while you can rest assured that every single transaction is monitored closely, and fraudulent activities are immediately rejected and reported.
Full Barion Pixel
This code opens a whole world of possibilities. By logging e-commerce events (like adding or removing items to and from a basket, etc.), Pixel does not only give you more sophisticated fraud detection but also comes with two extra perks. First, it unlocks Barion Metrics. This advanced analytics tool gives you a detailed view of your customers' behavior, helping you understand your sales funnel and improve your sales and marketing efforts altogether.
Second, if you implement Full Barion Pixel, you may become eligible for a merchant fee as low as 0.50%. Other factors also influence this percentage, so make sure you get in touch with us to calculate your exact merchant fee upon implementing Full Barion Pixel.
To read more on Barion Pixel and its integration, check out this article here.
How's the approval process happening? ✅
Depending on your business profile, there are two ways we can approve your shop registration. At face value, everyone needs to complete step number one:
Topping up your Barion Wallet: You've just submitted your registration form, but your freshly opened Wallet doesn't yet store a dime in it – so you need to upload any amount to it. Use a wire transfer registered to your company's name, and include your top-up code in the notes section, and you should be good to go. We use this step as a simplified verification of your business. Just look for the top-up submenu, select wire transfer, and then the following prompt will show your code: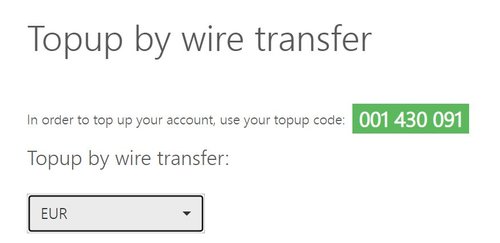 Normally, topping up your Wallet does the trick, but in certain cases, there's an extra step:
KYC: Aka Know Your Customer. This is a crucial step to filter out money laundering and financial crime-related activities. If we deem it necessary, we'll reach out to you and notify you that a video call is necessary to get the approval. You don't need to book an appointment: just sign in for video verification on any workday between 10-12 in the morning. Our agents are available and will get to you in a minimal waiting time.
If you're verified via the simplified method (topping up your Barion Wallet), you'll see that your Barion Wallet will be limited to a certain amount. We can remove these via KYC as well – the simplified method is there so that you can get approved faster, but to get the most out of your Barion Smart Gateway integration, video verification is highly recommended from the get-go. As for limits in particular, we'll detail all there is to know about them in an upcoming post.
Time to go live 🚀
If you've got through steps 1 to 4, you'll shortly receive a confirmation email from us. But apart from that, you're pretty much good to go at this point! With your approved shop, customers can start paying via Barion Smart Gateway. And how long does the approval process last? While it does require a few manual checks, most of our merchants' shops get approved within 1-2 working days.


I got approved! What's next? 🤔
With an approved shop and a functioning Barion Smart Gateway integration under your belt, you can start collecting revenue! Payments made via Barion will pop up in your Barion Wallet, and you'll be able to withdraw these either manually or automatize them for more comfort.